Dallas Apartments That You and Your Dog Will Love!
Anyone with a dog knows that living in or near the city can be rough with a pup. There is often little to no green space and all of the dogs within a block of your apartment are all huddled up in the same area! The good news is, it doesn't have to be a struggle. We have found several amazing complexes in the Dallas area that you and your dog will love. These are not just pet friendly, they really go above and beyond for your four-legged friend! The best part is, some of these have private yards for their units! That means, no more bundling up to head outside in the winter. Talk about easy!
Oak Lawn
Oak Lawn is a great neighborhood to live in if you have a dog! It is walkable, there are several parks in the area, and there is a great complex that is extremely dog friendly. When I say extremely, I do not use it lightly. This place has two dog parks and a pool just for them! Talk about a built in luxury for your furry-friend. They can run around the mini-dog park and then jump in the water for a cool down. The interiors aren't too bad, either! Just take a look…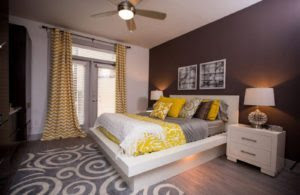 Currently they have one bedrooms starting at $1,088!
We also have another favorite in Oak Lawn that happens to be right next door to the complex above! This building may not have a dog park but they are totally pet friendly. They do not have breed restrictions here! I repeat, no breed restrictions. These units have beautiful finishes, from wood floors to expansive granite counter tops. You and the furry fam will absolutely love living here!
This gorgeous two bedroom with floor to ceiling window's is going for $1,613 right now! They also have one bedrooms in the low $1000's.
Medical District
One thing that makes life easy is a private yard. Unfortunately, near the city this can be a rare find. Luckily, in the Medical District we have found two awesome properties that have yards. It's a win for both of you since you will only be a few minutes from everything in Oak Lawn and Uptown and they get grass to play!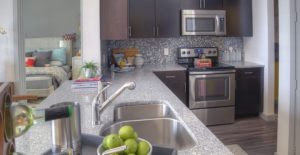 This complex has one bedrooms starting at $958!
These luxury units start at $1,136, and just look at all of this extra green space!
635 and The Tollway
If you work further north, this complex is for you! It's a great location since you will have easy access to both 635 and the tollway. You can get to Uptown/Downtown or basically anywhere else in a jiffy! This complex is very Zen and you will definitely enjoy unwinding from a busy day here. They have a large sparkling pool, a grille, and a great fitness center. The best part is they love your pets as much as you do and several of their units have great yards!
These gorgeous units start at $1,221 for one bedroom and $1,524 for two bedrooms!
If you and your furry friend are looking for a new space to love, be sure to fill out our apartment search form or give us a call/text at 214-586-0519 to start your search today!